Break all the rules of traditional MMA fighting as you experience the bone-crushing brutality of this electric sport. Square off against the sport's top male and female fighters in fast and furious arcade-style combat, unbound by traditional MMA rules. Take down stars and legends in a variety of unique locations around the globe as you engage in underground MMA fights. Unleash your powerful mastery of martial arts styles and become a dominant MMA fighter.
Synopsis
Supremacy MMA has you pull no punches as you vie to become the greatest fighter in the world. Decimate your opponents with an array of martial arts styles, including Jiu-Jitsu, Muay Thai, Judo, Kickboxing and many others. Step into the ring and square off as MMA legends Jens Pulver and Jerome Le Banner or punch, kick and grapple your way to Supremacy as an up-and-coming fighter. Prove that women belong in the world of professional MMA when you play as MMA stars Felice Herrig and Michele Guiterrez in the first MMA fighting game to feature real-life female fighters. Demonstrate your dominance in underground MMA bouts, fight clubs and street fights throughout the world in unconventional locations such as strip clubs, prisons, slaughter houses and abandoned warehouses as well as in various MMA stadiums. Do you have what it takes to rise to Supremacy?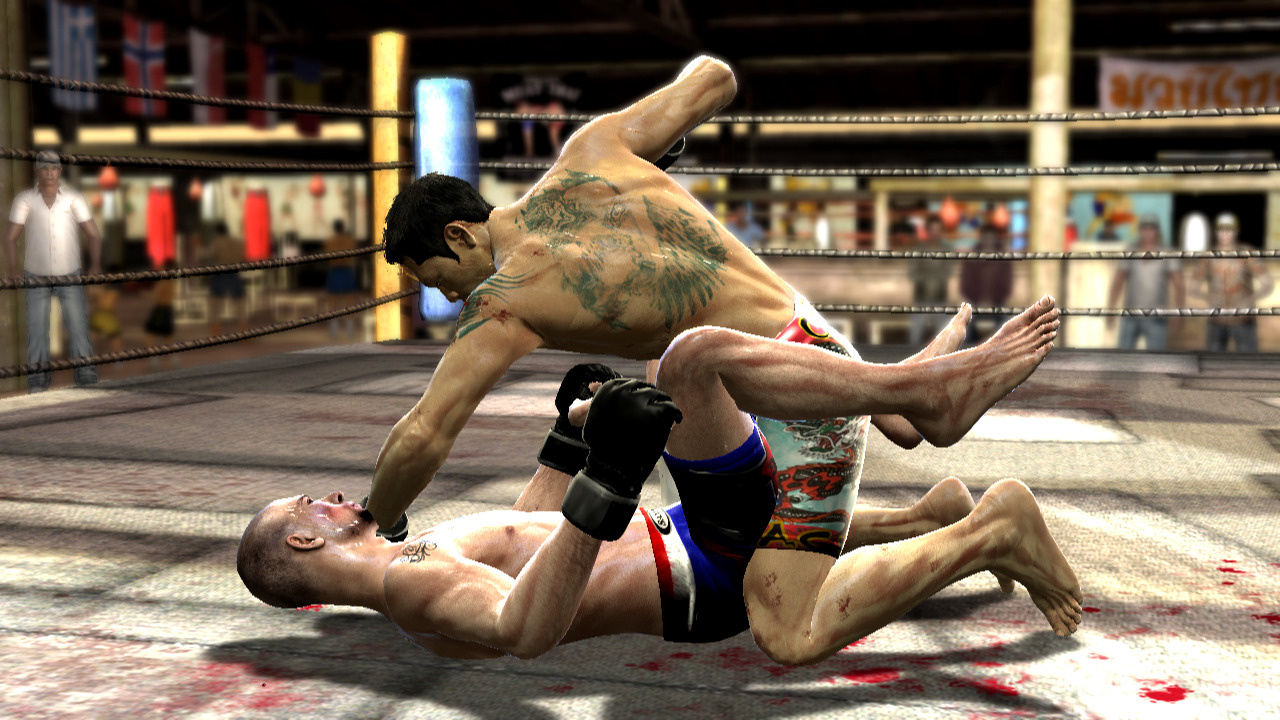 Features :

Fighting Styles: Karate and Muay Thai -- Karate and Muay Thai fighters feature a full set of individual moves, counters, stances and attacks specialized for their respective disciplines. Karate fighters rely on powerful high kicks, strikes and throws while Muay Thai favor shin-splitting kicks, elbows and the patented Muay Thai clinch, which you'll definitely want to learn to either take full advantage of or totally avoid depending on which side of the gloves you're on.
Venues: El Matodor and Supremacy Arena -- Think MMA is only about television announcers, bright lights and massive crowds? Think again! In El Matador, the cage is set inside a seedy bar littered with street denizens, strippers and cock-fighting. Keep in mind, there are no refs and no rules, so if you find yourself tangled up in an armbar, be ready to tapout or risk paying the price.
Brutal Finishers -- Forget about the "Some Holds-Barred" fighting that licensed MMA games have evolved into, welcome to truly No Holds Bar fighting, complete with brutal finishing moves that would make a heavyweight champ cringe. Blown knees, blasted-out arms, broken necks, if it could happen in a match, it can happen in Supremacy MMA
Feints -- An important aspect to creating openings for that jaw-crushing strike or knee-tearing kick is the feint, which allows certain fighters to fake moves, leading their opponent to counter or block and leaving their guard down just long enough for a master to get some real work done.